Since last update: BTC -14.4%, ETH -7.2%, SBF -100%, equal weight crypto index -17.7%, stocks +6.2%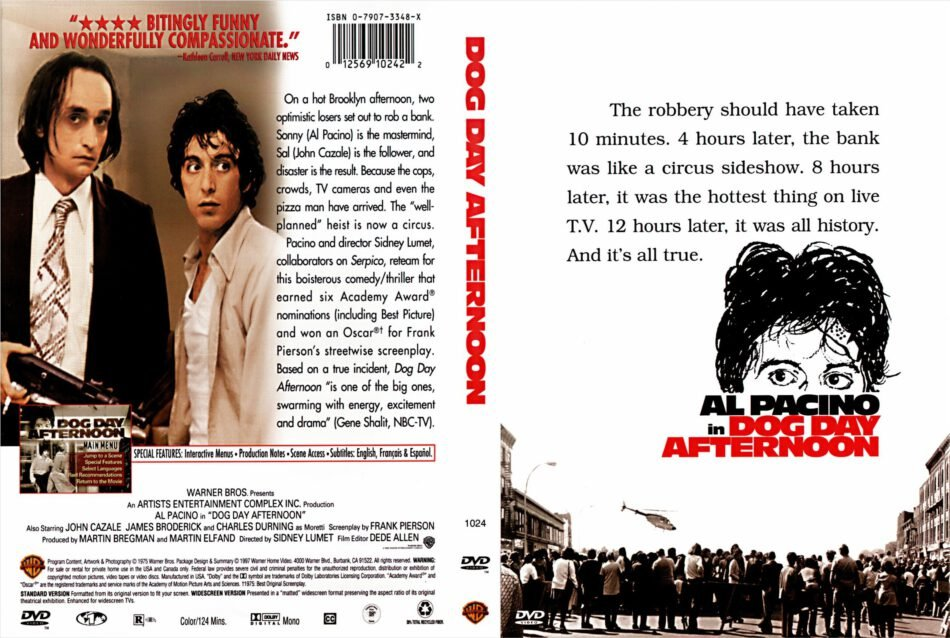 1) The FTX situation is increasingly fluid/bizarre and is well-covered by others on CT… we will spare you another news recap and talk/chartbook a bit about the market.
Our last thread came days after the lowest volume weekend for crypto futures in 2 years, where we said volatility was "through the floor." This one comes days after $260B traded in 24h (ytd high) and the largest hedge fund + second largest exchange in crypto went down in flames.
Now flanked by sometimes real, sometimes fake reports of this hedge fund, that lender, this stablecoin, etc. etc. there is no shortage of people out or looking to get out – marking FTX open interest to zero shows the extent of the speculative hole now: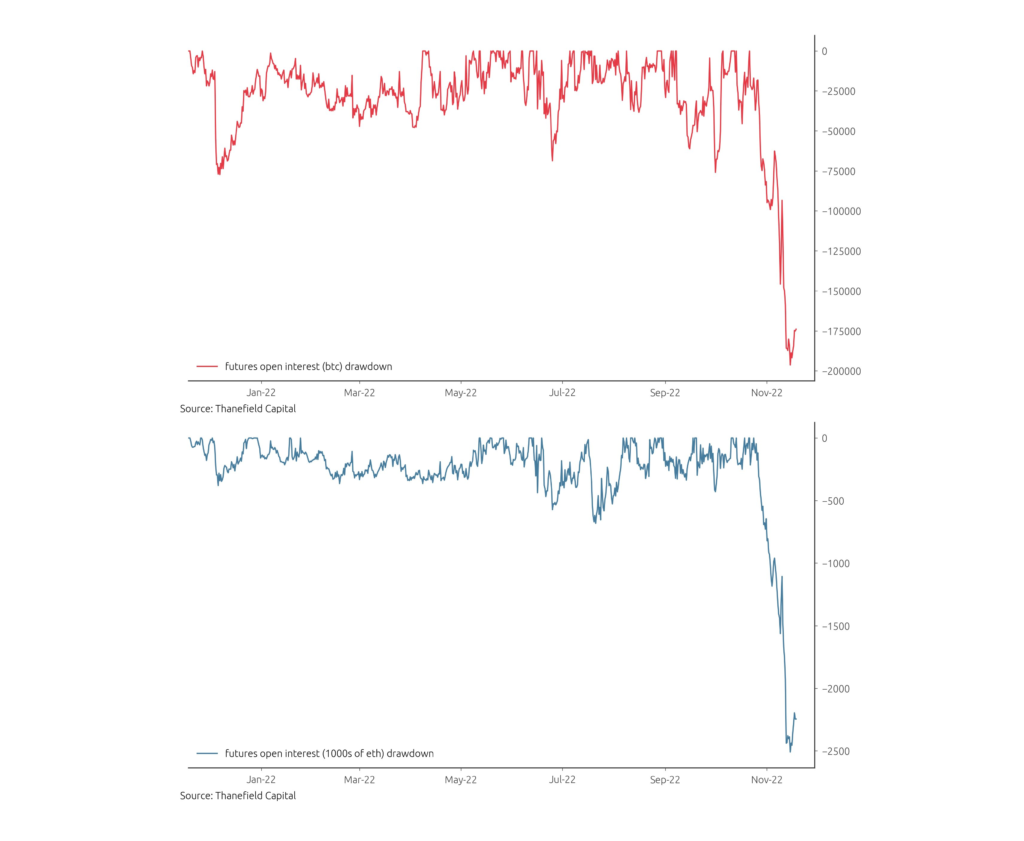 Binance looks to have snapped up the missing volumes pretty much completely…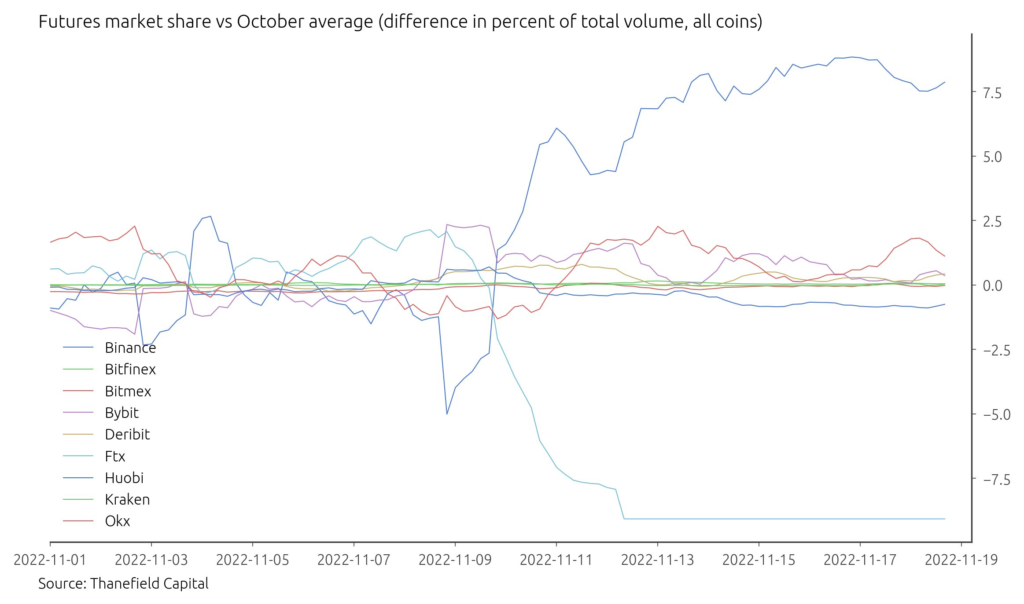 And liquidity is ripped from everywhere: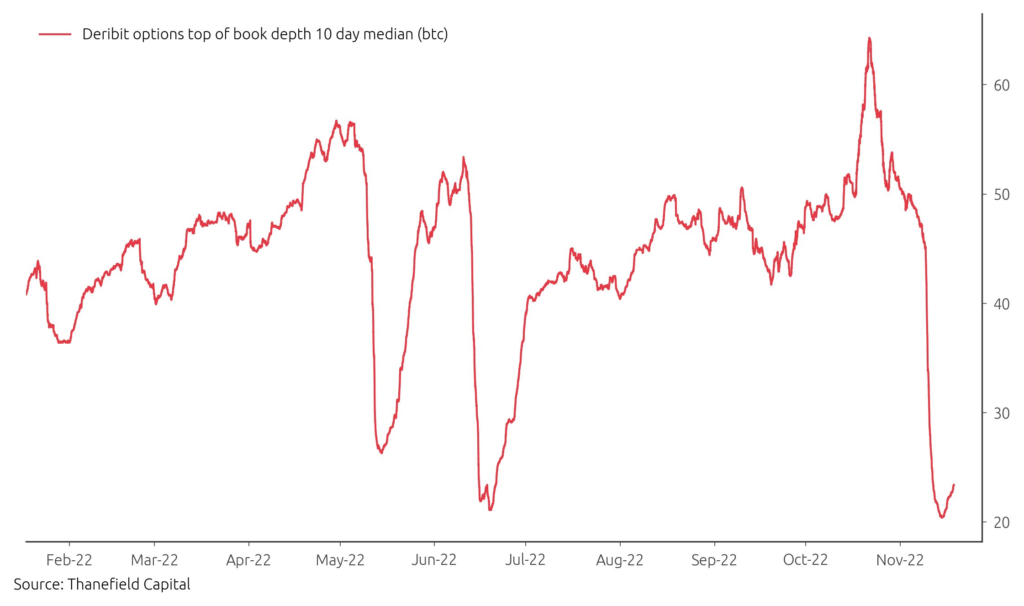 2) There are signs that we are moving from panic back to gloom – without Nov 8th in the lookback window volumes are already rolling back to the lows.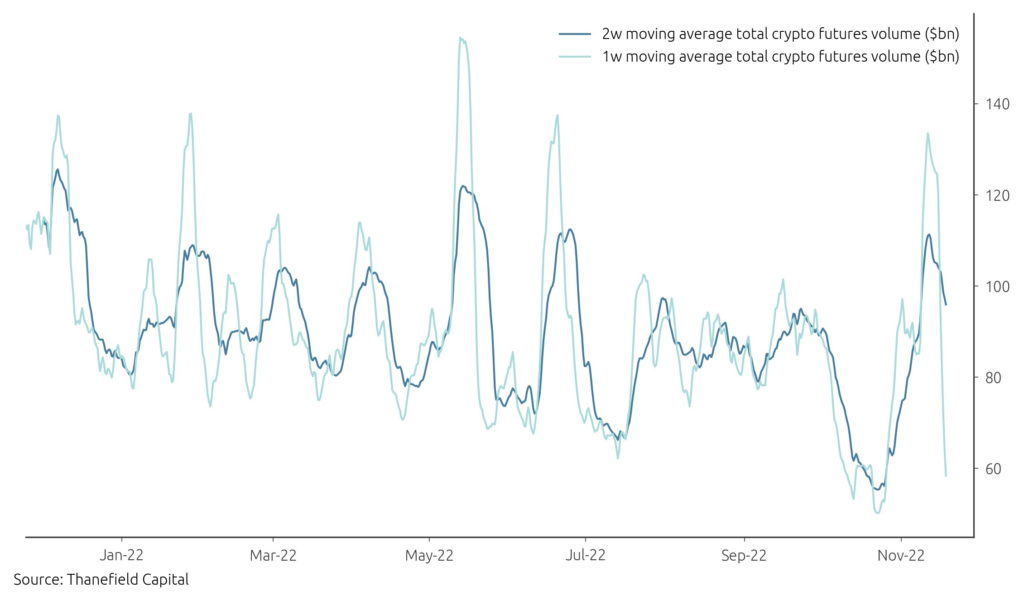 Again, "gloom not panic," people want puts v calls for sure but under the hood term structure is no longer inverted, BTC+ETH 1m vol is just 39th percentile for the past year, we think it looks cheap.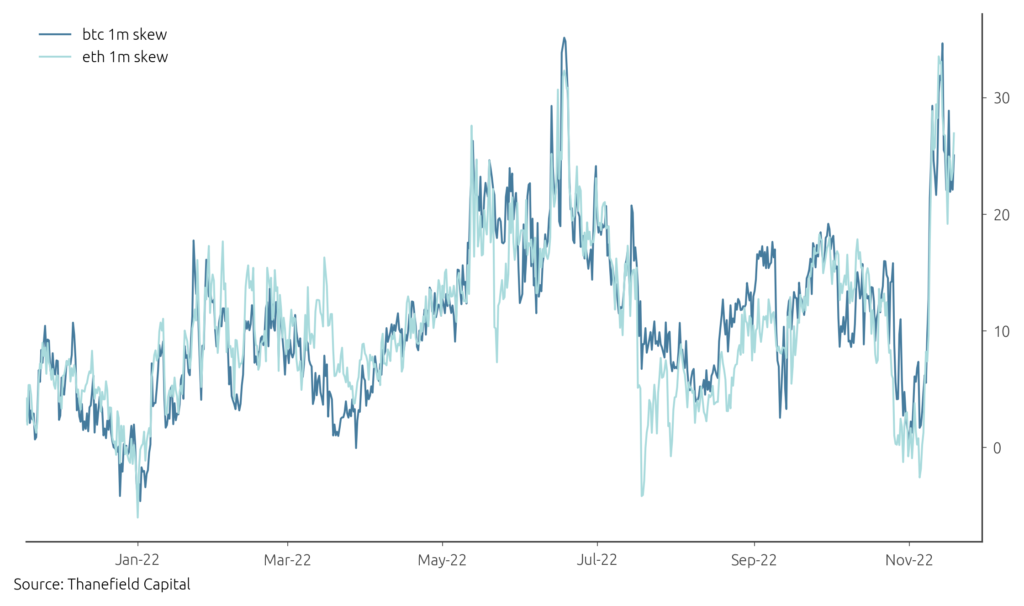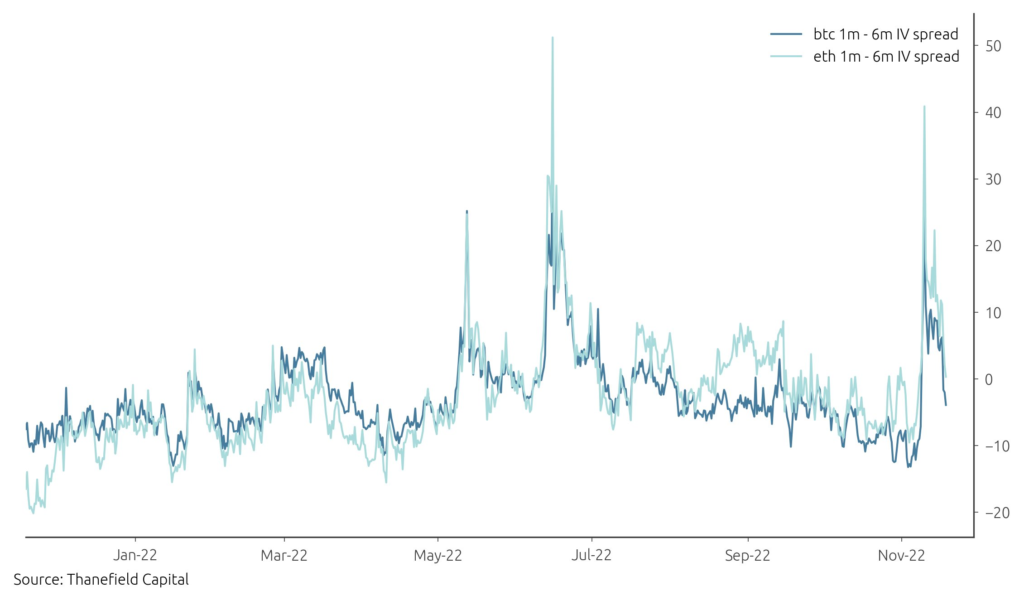 3) The Widowmaker! Just today during US market hours, BTC declined 0.2% and GBTC declined 5.6%… the below chart is an absolute train wreck. It seems likely the trust is going to stay at the center of conversation through to next week, but we're unsure how that will play out.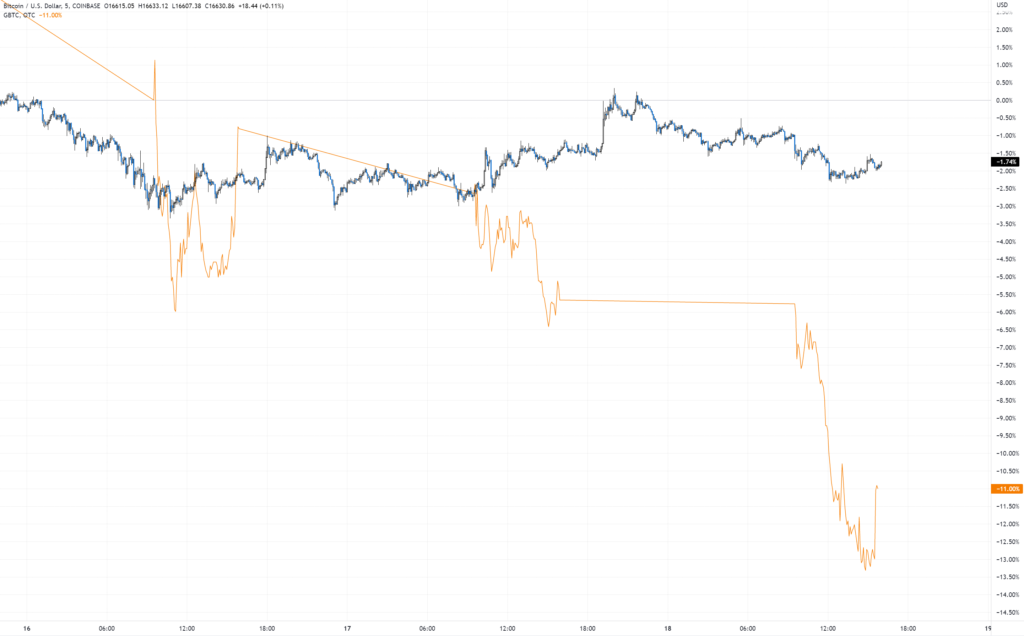 4) Somewhat related, CME spreads have completely blown out and the basis remains at -20% today for btc and eth. CME open interest is up 76% or $146m for eth and 24% or $288m for btc, pushing both to records. This is largely for the Nov contract which stops trading next Friday.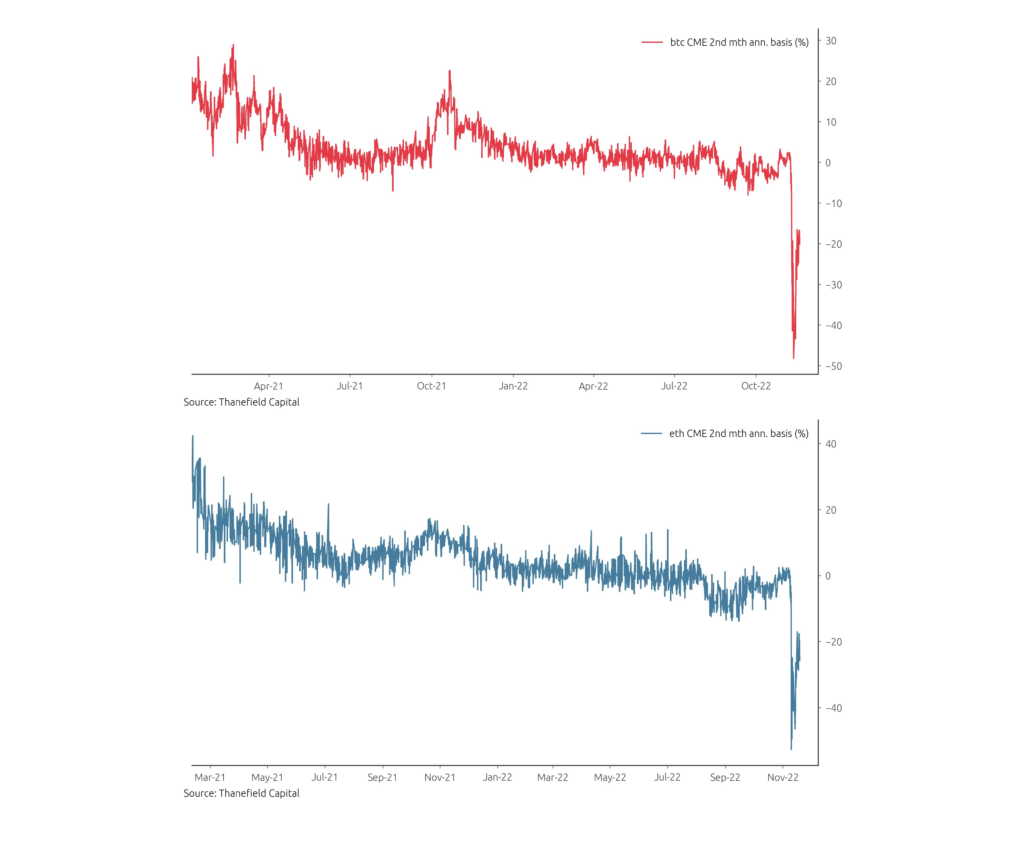 It seems possible the spread exaggerates how aggressively these contracts were being sold, since anyone looking to buy it will have to borrow spot crypto or short on an exchange, which is less straightforward after last week.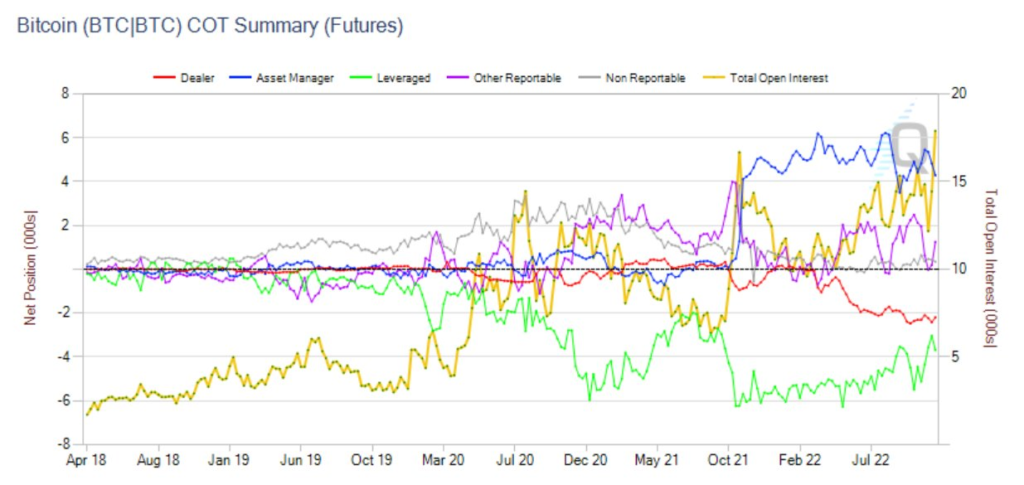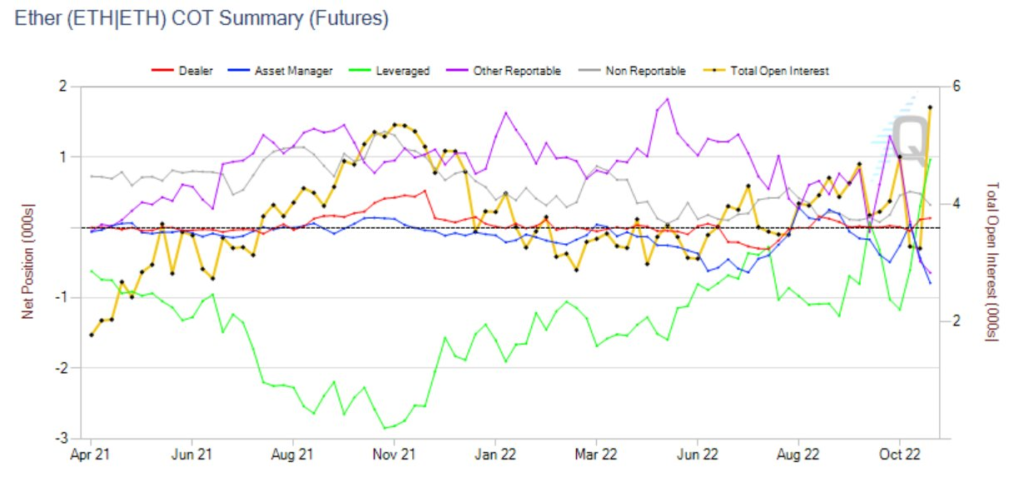 5) This (FTX) story is still developing, to put it lightly. Some pessimism seems fair, "bro nobody is coming back for 5 years" seems a bit much… We are fortunate enough to still be whole today and are using this to double down.